Welcome to Dog Bows by Linnea!
Dog bows By Linnea handcrafts high-quality dog bows for all occasions. I have competition show dog bows used for Shih Tzu, Yorkshire Terrier, Maltese, and other dog breeds that might need a dog bow.
Right now anyone has the chance to win this beautiful bow filled with real Swarovski. Just visit my Facebook-Page to see the details and how to enter!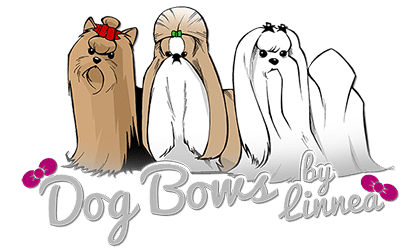 My dog bows come in 3 sizes: "Mini puppy" – for puppies, "Puppy" – for a junior dog or smaller adults, and "Full Size" for dogs over 6kgs or Yorkshire Terriers.
Please read more about the sizes and recommendations in the information tab.
My bows feature two NON-latex elastics on the back for attachment onto the topknot.
None of my dog bows are in stock; they are handcrafted for you as ordered. Every bow is made with love and precision. Please order dog bows at least THREE WEEKS before dog shows to guarantee that you will have the dog bow/s in time.
Thank you for visiting Dog bows By Linnea, and I hope you will find some dog bows that suit your dog!