Welcome to Dog Bows by Linnea!
Dog bows by Linnea handcraft high-quality dog bows for all occasions. I have competition show dog bows used for Shih Tzu, Yorkshire Terrier, Maltese, and other dog breeds that might need a dog bow.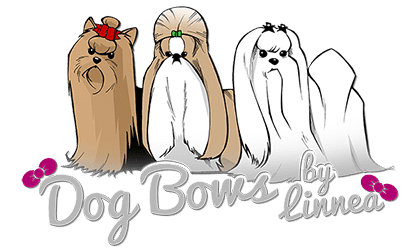 My dog bows come in three sizes: "Mini puppy" for puppies, "Puppy" for a young dog or smaller adults, and "full size" for dogs over 6 kg or Yorkshire Terriers.
Please read more about the sizes and recommendations in the Information tab.
My bows feature two NON-latex elastics on the back for attachment onto the topknot.
None of my dog bows are in stock; they are hand-made for you as ordered. Each bow is made with love and precision.
Thank you for visiting Dog Bows by Linnea, and I hope you will find some dog bows that suit your dog!